personal finance design process
Losing traction to design-forward competitors, Yodlee sought to re-imagine MoneyCenter, their core user-facing product, to establish themselves as a thought-leader in Personal Financial Management.
I led a multi-disciplinary 8 person team through concept development, user research, interaction modeling and documentation while owning the interaction design of the system.
IMMERSION
We began the program with a deep dive into the personal finance space, analyzing competitors' offerings and identifying emerging technology and usability trends.
By building out personas for our 3 target user types, we gained a deep understanding of existing habits, triggers, pain points, and where a new tool would fit into their lives.
Prioritizing personas helped us focus on building a strong foundation to ensure we were addressing the lowest common denominator.
We generated over 30 concepts aimed at helping users with their most common financial tasks: checking their financial health, paying bills, learning best practices, and developing new savings habits.
I developed a research plan and conducted 90-minute sessions with our target user types to learn more about their existing habits, pain points, tools, and how our concepts might fit into their day-to-day lives.
We learned that for our target users, financial management was a often a necessary evil. People were looking for a tool that was approachable, educational, and actionable at every step.
system design
Starting with Yodlee's existing functionality, I reevaluated and prioritized features based on frequency of use.
We then sketched new conceptual models, which represent different organizing principles for the functionality, grounded in how users already think about their finances.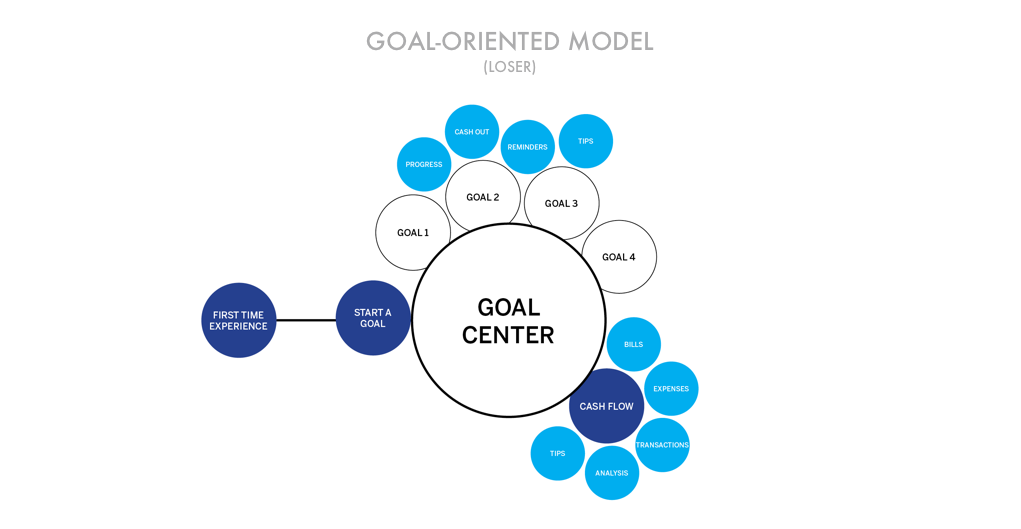 Once we had identified a resonant conceptual model, I further developed it into an interaction model, which set the foundation for how users navigate the service.
Detailed design
I led the team through the design of final assets, including annotated wireframes, interactive prototypes, and a visual style guide for the Yodlee web and mobile experience. [mobile and tablet-optimized web prototypes]
The outcome was a cross-platform application design that gives users a refreshingly simple view of their financial picture, prioritized by only the information, advice, and actions that are needed in the moment.
(It's currently in development with Yodlee.)